THE GEORGE BENGAL FUND TO END ANIMAL CRUELTY 
The Pennsylvania SPCA relies entirely on the generosity of our donors to fund our work to fight animal cruelty. Sworn by the state of Pennsylvania, PSPCA Cruelty Officers are the boots on the ground, removing animals from abusive situations and helping individuals in our community. Dedicating nearly half of our annual budget to supporting our cruelty work, we do not receive any state, local, or federal government funding for our life-saving work. The George Bengal Fund to End Animal Cruelty was established to honor the late George Bengal, PSPCA's former Director of Humane Law Enforcement. It was George's wish that his legacy of service dedicated to animal welfare continue long into our organization's future. Every day, George's team continues to relentlessly work to remove animals from cruelty and neglect, prosecute the culprits and rehabilitate the animals before finding their forever homes.
At a time when most other animal welfare organizations have quit this costly and difficult work, we have reaffirmed our commitment to this vital part of the mission. Our officers are here to take the call and protect the most at risk animals throughout the Commonwealth.
GEORGE & HIS TEAM RESCUED MAVERICK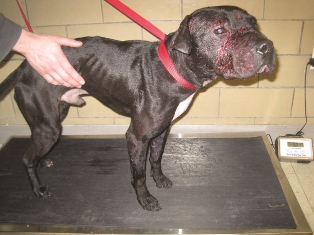 Maverick was rescued from a dogfighting ring in South Philly where nearly 100 people paid $100 each to watch a series of dog fights. His fight was the main event with a $100,000 purse. Our Cruelty Officers broke arrived in the middle of Maverick's fight, rescuing him and 40 other dogs. While Maverick was receiving treatment in our shelter hospital, our legal team was successfully convicting the owner and 25 others through the court system. All 40 dogs, including Maverick, were rescued and ultimately adopted.
In the last three years, our Cruelty Officers conducted nearly 25,000 investigations and saved over 4,000 animals. Through our partnership with local attorneys, last year we achieved a 95% conviction rate in our cruelty cases. Fighting cruelty is expensive. We dedicate nearly half of our $9 million annual budget to rescuing and rehabilitating animals from cruelty. We do not receive any government funding for our life-saving work; we rely on the generosity of private donations and grants.