With hundreds of animals in our care every day, the Pennsylvania SPCA is always in need of essential supplies that not only nourish our animals, but can also be used in our enrichment and training classes, community outreach programs, and corporate volunteer days.
Are you too young to volunteer directly with our animals (must be 18 years or older)? A great way for our youth supporters to help our animals is to host their very own Supply Drive! This is a great way to be involved with the PSPCA and directly help the animals in our care.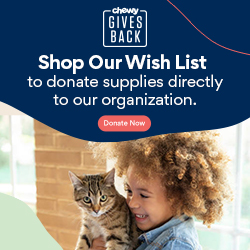 Please click here for a link to our Amazon Wish List.
You can support the animals of the Pennsylvania SPCA through tax deductible in-kind donations. Because of the many animals we rescue each year, we have an ongoing need for:
Dog & Cat Toys (new)
Mylar balls, jingle balls, fuzzy mice, ping pongs balls, etc for cats
Tennis Balls
Food puzzles
Rope toys
Dog & Cat Treats (unopened)
Soft dog treats (Beggin' Strips, Pup-peroni)
Nylabones for dogs
Hot dogs
Dog & Cat Wet and Dry food (unopened)
Kongs & Kong Wobblers (new)
Stretch and Scratchers  (Stretchandscratch.com)
Paper grocery store bags (bigger than a lunch bag size)
Creamy Peanut Butter (any brand-large sizes if possible, unopened, must NOT contain xylitol)
Oats (unopened)
Catnip
Cat litter
Disposable/"Dollar Store":  trays, bowls, mixing spoons (used for making treats)
Unsweetened pureed pumpkin
Fleece
Pipe Cleaners
Please note: due to storage and safety we are unable to accept the following:
Open bagged pet food
Medications or prescription items
Pillows of any kind