The Pennsylvania SPCA's Wellness Clinic & Surgery Services are closed until further notice. We will reopen as soon as possible, and encourage clients to please check here, as well as on our social media channels for additional updates. 
Spaying (for females) or neutering (for males) not only prevents your cat or dog from producing unwanted litters, it can help reduce unwanted behaviors and health risks, such as:
Reduce spraying and marking
Reduce risk of certain cancers
Reduce wandering and escaping
Increase lifespan
We offer same day drop-off and pick-up for surgery. Your pet's surgery will be performed by a board-certified veterinarian and a team of experienced, compassionate veterinary technicians focused on your pet's care and comfort.
We offer a range of surgery options to meet your needs and budget. Our standard surgery package offers the comprehensive care your pet deserves, including pain medication and an e-collar to protect the surgery site.
Make your pet's appointment today. 
Philadelphia patients: Schedule online. Online appointments will be scheduled in advance for the next month. Should you need an appointment sooner, please call use at 215-426-6300 ext. 0.
Philadelphia Pricing: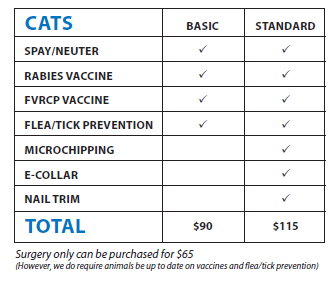 Lancaster patients: email lancaster@pspca.org or call 717-917-6979. Please note there is no online form for scheduling surgeries at Lancaster. For more information and pricing at our Lancaster Center, click here. 
Danville-area patients: call 570-293-9200. Please note there is no online form for scheduling surgeries at Danville. For more information and pricing: click here.
*Please note, prices vary by location. Please verify when making appointment!*
Get your animal ready for their appointment
Please note the below is for our Philadelphia Center only. Visit our location pages for Danville and Lancaster drop off and pick up times. 
CATS

Drop-off: 7:00 - 8:00 a.m.
Pick-up: 3:30 - 4:30 p.m.
Cats must be in a carrier.

DOGS

Drop-off: 7:30 - 8:30 a.m.
Pick-up: 5:30 - 6:30 p.m.
Dogs must be on a leash.

Animals should not eat or drink after midnight the day before surgery.
Payment is due at time of drop-off.
We use dissoluble sutures (stitches), so a follow-up visit for suture removal is NOT necessary, unless otherwise noted by your veterinarian.
For questions on spaying and neutering, please e-mail veterinaryhospital@pspca.org.