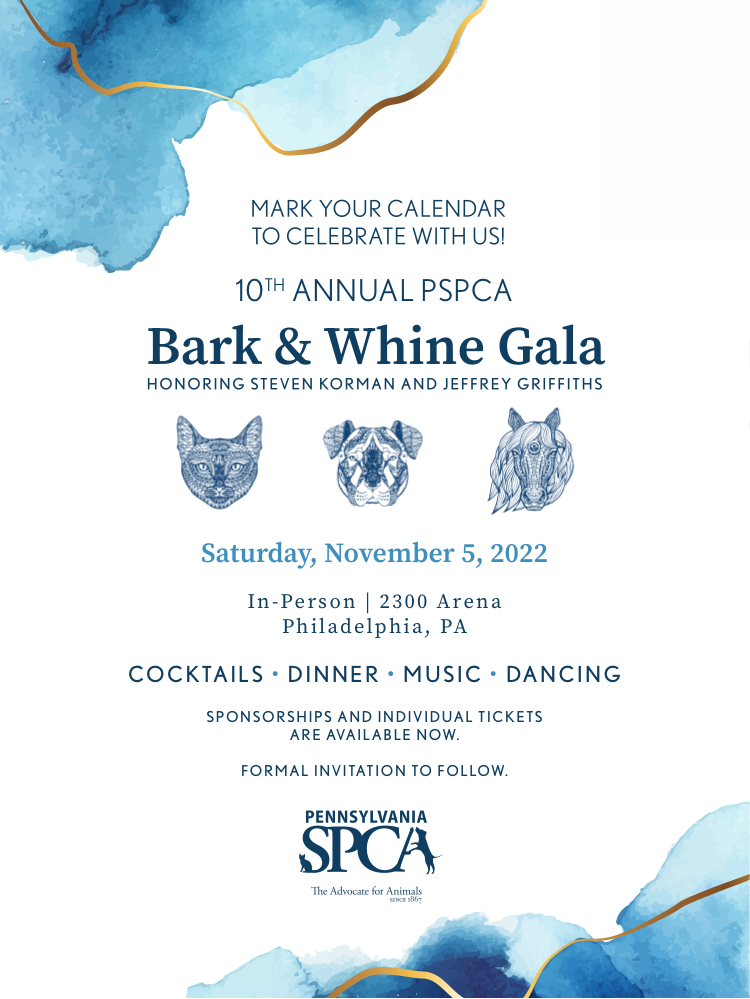 After two years as a virtual event,
the Pennsylvania SPCA's Bark & Whine Gala
will be returning to 2300 Arena for a lively, in-person celebration
the evening of Saturday, November 5, 2022.
 
Join us as we mark the 10th year of Bark & Whine,
commemorate the 155th year of the PSPCA, and
honor long-time animal advocates,
Steven Korman and Jeff Griffiths.

For sponsorship and ticket information, please contact mmurphy@pspca.org.
 
Bark & Whine 2022 Sponsors
*As of October 10, 2022
Howl at the Moon - $50,000

Jean & Jeff Griffiths
Katie & Marc Hembrough
Wharton Business Group, LLC
Mr. & Mrs. Steven Korman
The Shreiber Family Foundation


Leader of the Pack - $25,000

Pamela & David Berkman
Top Dog - $15,000
 
Lindy Snider & The Snider Family Foundation

Best in Show - $10,000

Penny & John Ellison
Julie Klim
Linda & Tom Knox
Iliana & Tulip Strauss
Hope H. van Beuren
 
Something to Bark About - $5,000
Lisa & Michael Blank
Leslie & Bill Briley
Biswanger
Arlene Caney
Carole & Doug Cook
Cori Daggett & Jon Kaplon
Allita DiBernardo
The Lewis Dries Group at Morgan Stanley
Gregory Dries, Senior Vice President, Financial Advisor,
Bob Lewis, Senior Vice President, Financial Advisor
Carol Erickson
Vicki & Don Levinson
Mickey & Larry Magid
Sharon Hirth Quinn and David Quinn
Marguerite Rodgers Interior Design
Tito's Handmade Vodka
Happy Tails - $3,500

Alliant Insurance Services, Inc.
Chewy
Lee Halladay
The Haverford Trust Company
Gallagher
Peggy & Harold Katz
Barbara & Joseph Kesselring
Meridian Bank
ParallelEdge, Inc.
Cynthia Silber & Eric Key
 
Pick of the Litter - $2,500
Randi Skibinsky Abramson & Howard Abramson
Alonso Family Fund
Anonymous
Antech Diagnostics
Shauna & Jeff Binswanger
Jim Clayton, Mark Benning, & The Lucky Dogs
Ellen & David Clinton
Cozen O'Connor
Friedman Financial, LLC
Lynne & Bill Garbose
Glenmede Trust Company
Sharon Hoover
Ruth & Richard Horowitz
Mars-Wrigley
PACT---Buzz Miller & Judi Goldstein
Christy & Greg Pitchford
Powell Family Foundation
Republic Bank
Candace Sneberger & Archie Hendricks
Valley Veterinary Hospital 
VCA Hospitals
WSFS CARES Foundation
Janine & Jeff Yass

What a Good Dog - $1,500
 
Tania & Mark Alexander
Carol & Richard Boardman
Amy & Marc Brownstein
CRB Group
Nancy J. Dries Vacation, LLC
Karin & Eric Hencken
Kate Jiggens
Kimberly Murphy
Dr. Margaret Preston & Philip G. Kircher
Sheri & Ruairi ONeill
Nancy & Jim Smith
Marilyn W. Toub
Jackie & Larry Weitzner
Cat's Meow - $1,000

Bravecto
Patty & Robert Isen
Mary Alice Malone
Pete Motel
PetHealth
Barbara Brown-Ruttenberg