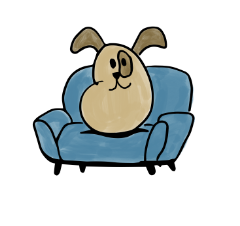 Couch Potato Program
The goal of the Short-Term fostering Program is two-fold: to give shelter dogs a break from the shelter environment and to gather adoption promotion materials and information about the dog's behavior in a home environment. 
Removing a dog from a kenneled environment, even for 24 hours, can significantly reduce their stress levels, and provide them with a "fresh state of mind" upon return to the shelter, thus improving their quality of life. The studies that this program is based on have shown that the most effective short-term foster stay is between 24-72 hours. This time frame effectively lowers a dog's cortisol levels, and keeps them significantly lower when the dog returns to the shelter.
Pictures, videos, and information about a dog's behavior in a non-kenneled environment can provide valuable data to staff and interested adopters regarding the way a dog may behave once they're in an adoptive home. This can help staff actively promote dogs for adoption and can give adopters a more accurate idea of what to expect when bringing home their new family member. The more information we have regarding a dog's in-home behavior, the more efficiently we can promote them for adoption. The details gathered in a foster home can help an adopter feel much more confident about the decision to adopt. Additionally, foster stays can help a dog practice the behaviors that may be expected of them in an adoptive home.
This program is designed specifically for dogs, as they adjust to new environments more efficiently than cats. Unfortunately, short-term fostering would not be effective for a cat, as it often takes much longer for a cat to slowly adjust and warm up to a new environment. The changes of environment in quick succession would prove more stressful to a cat than beneficial. Dogs historically settle in much more quickly and are able to benefit from just a short break out of the shelter.
Quarantine Fostering
The PSPCA is committed to pulling animals from high volume shelters, both in southern regions of the USA, as well as from our own backyard, ACCT Philly! When we pull dogs from outside sheltering organizations, we quarantine them for a 2 week period to ensure that they don't break with any communicable diseases that could have been picked up at another shelter. This includes diseases as simple as upper respiratory infections, which can spread quickly and easily throughout a shelter population. After the two week quarantine period, these dogs are medically cleared by a vet, and placed in our general adoption population at the shelter. If they show symptoms of illness at the time of their recheck, their quarantine is extended. 
We prefer to place these dogs in foster care for the duration of their quarantine, so they don't need to remain in isolated kennels at the shelter for several weeks. This offers the dogs a great opportunity to decompress, our staff a great opportunity to get to know things about how these pups will be in a home, and relieves pressure from our animal care staff by lessening the number of animals in the shelter at any given time. After quarantine periods in foster care, foster parents are welcome to continue fostering until the dog is adopted, or return the pup to the shelter for adoption!