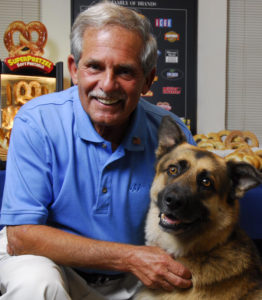 Gerald B. Shreiber is President and CEO of J&J Snack Foods Corp. Gerry began his career as a machine shop trainee with Kulicke & Soffa in 1960 and ultimately held positions in production and sales management before starting his own business manufacturing specialty machine parts. Gerry sold his company in 1970 and stayed until 1971 before forming J&J Snack Foods Corp. in September 1971.
Mr. Shreiber has served on the Board of Directors of the Jewish Community Center of Atlantic County (NJ) and also served as Chairman of the fundraising committee. He was Chairman of the State of Israel Notes for Atlantic County. He is also a founder of the American Associates, Ben Gurion University of the Negev in Israel, and is a member of the board of the Federation of Jewish Charities. Gerry is a member of the Dean's Council of the Fox School of Business, Temple University. Gerry is also a Charter Member of the Ed Snider Youth Hockey Foundation. Gerry and his company, JJSF, sponsor numerous philanthropic causes and charities including the ALS Association, Children's Hospital, Golden Slipper Camp, Juvenile Diabetes Foundation and the United Way.
Gerry is an avid animal lover, and is very active on behalf of animal welfare and animal rights. He is a former Board Member and supporter of the North American Wildlife Park Foundation (Wolf Park), American Anti-Vivisection Society, Animal Welfare Institute, PETA, Guide Dogs for the Blind and many other preservation and animal welfare organizations. He also created his own foundation called S.A.F.E. (Shreiber Animal Foundation Enterprise). Gerry was recently honored by the Pennsylvania SPCA for his philanthropy towards numerous animal causes. He joined the board of the Pennsylvania SPCA in 2017.
Gerry has three children and six grandchildren. He lives on a 113-acre farm in Mullica Hill, NJ, which he shares with numerous animals, including four dogs, seven horses, two burros, two pygmy goats and one cat.